Industrial Facilities
Anheuser-Busch InBev Old School House Complex
This project used a Sika Sarnafil membrane system specially ordered in a 90 mil thick PVC membrane in a dusty gray color. The membrane was adhered to a modified asphalt base using a urethane adhesive.
All metal flashings are stainless steel with a PVC membrane factory adhered to one surface. This special flashing material was formed and fitted by Bi-State Roof Systems.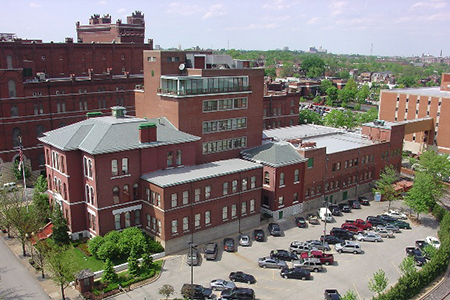 Maritz Office Building and Interstate 44 Pedestrian Bridge
Completed successfully on an extremely tight schedule, this new construction project required 85,000 square feet of ballasted single-ply synthetic membrane on a highly visible part of a major corporate campus, along with an enclosed 16-foot-wide, 510-foot-long pedestrian bridge that spans a busy eight-lane interstate highway. Work on the pedestrian bridge required special attention to safety issues as well as the challenges of working in close proximity to heavy traffic.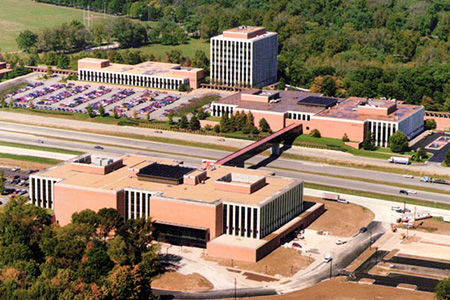 Wells Fargo Advisors "D" Building
This roof replacement project required removal of all existing roofing materials down to the structural deck. Foam board insulation was installed and covered with a hard surface fiberglass-faced mineral board.
The finishing touch was the installation of a white membrane fully adhered to the mineral board and the application of flashing membrane to ensure a total watertight roofing system.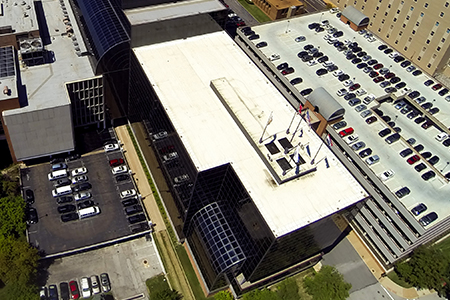 MSD Bissell Point Waste Treatment Complex
This assignment required specifying and installing industrial roof systems that would stand up under various rigorous environmental conditions, often in unstaffed locations where routine maintenance checks are few and far between. The buildings involved included pump stations, treatment plants and administration buildings. Common rooftop fixtures ranged from chlorination units to industrial vent fans and corrosion-resistant stainless steel flashing. Bi-State installed single-ply membrane systems with special resistance to chemical exposure.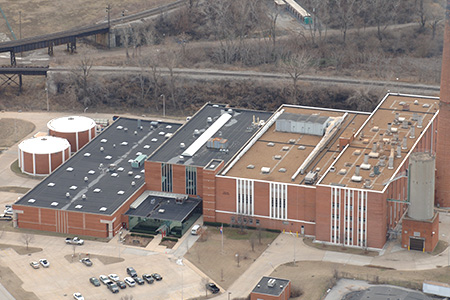 For more information about the roofing solutions we offer industrial facilities, Contact Us today.