Municipal Facilities & Specialty Roof Installations
Maryland Heights Fire Protection District Engine House #1
This project consisted of the removal of a weathered and failing asphalt shingle roof, the application of a self adhering membrane and the installation of a standing seam metal roofing system. This standing seam factory-finished steel roofing system included the main roof structure and the special design and installation of the dormer roofs as well. The flashings consisted of the same type and grade of prefinished steel then formed by Bi-State Roof Systems. The matching gutter system was also formed and installed to match the new steel roof.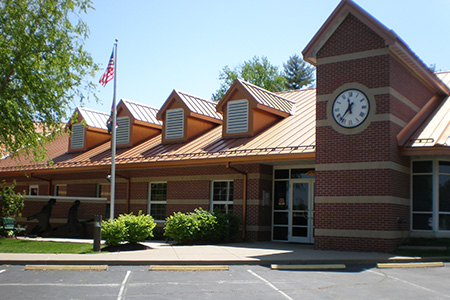 The Pavilion at Lemay
The Pavilion at Lemay is St. Louis County Parks' state-of-the-art recreation center. The indoors features a gymnasium, fitness center, walking track, child care room, exercise studio, meeting rooms and locker rooms, while the outdoor aquatic center has a child play structure, lap lanes, a lazy river, a climbing wall, diving boards and a water slide. It is fitting that such a state-of-the-art recreation center should also have a 21st Century ultra-modern roofing system – and it does.
Bi-State Roof Systems' technicians mechanically attached foam insulation and a layer of a fiberglass reinforced mineral board to the structural deck. Then adhered was a Sika Sarnafil 60 mil thick felt backed PVC membrane to the mineral board. To add additional lines of beauty, PVC ribs were heat-welded to match the color of the membrane.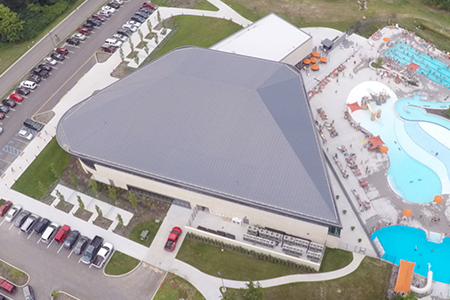 Wentzville Law Enforcement Center
This project consisted of the removal of a failed shingle roof and the installation of a new Sika Sarnafil PVC Décor Profile membrane with standing seam PVC ribs. The installation of the new fully-adhered PVC membrane dramatically improved the overall appearance of this modern 21st Century law enforcement center. The roof is now watertight, beautiful and will last for many years. In addition, this re-roofing project won a National Project Of The Year competitive award based on project planning and high-quality installation.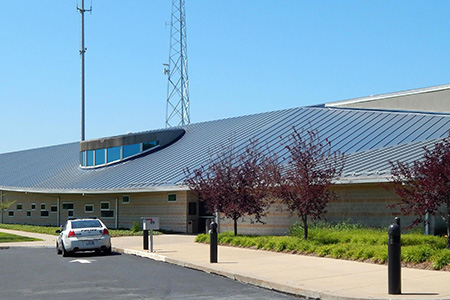 For more information about the roofing solutions we provide for municipal facilities and specialty roof installation projects, Contact Bi-State Roof Systems today at 636-225-3050.